October 28, 2011
Rotary Scholar supports mothers with HIV
Article on one of our Past Ambassadorial Scholars published on the RI website.
---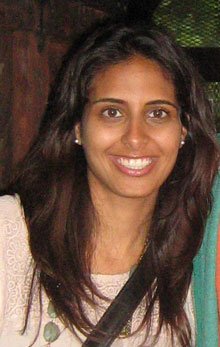 Aadila Sabat is on a personal mission to help achieve one of the United Nations Millenium Development Goals.
"We can all do something to eliminate new HIV infections among children and keeping their mothers alive," says the former Rotary Foundation Scholar from South Africa. "Because transmission of HIV/AIDS from mother to child is preventable."
The transmission rate can be 45 percent for mothers with HIV who don't receive antiretroviral drugs. Use of the drugs decreases the rate to less than 2 percent.
Sabat works in Los Angeles for mothers2mothers (m2m), a nongovernmental organization that educates and supports pregnant women and new mothers on issues related to HIV and maternal and child health. She helps train new mothers living with HIV to provide such support to women like themselves. These "mentor mothers" then work alongside doctors and nurses to serve the needs of this population group, helping to lessen the burden on critically understaffed health systems.
"It costs less then $100 to stop the transmission of HIV/AIDS from a mother to her child during pregnancy, but if that baby is born HIV-positive the cost is $150,000." says Sabat.
Since 2001, m2m has grown from a single site in Cape Town to more than 700 in nine countries in sub-Saharan Africa, with offices also in London and Los Angeles.One of the first donations to the organization came from the Rotary Club of Waterfront in Cape Town.
Sabat's connections with m2m and Rotary go back to her teenage years in Cape Town. She was president of her Interact and Rotaract clubs, and a Rotary Youth Exchange student to France.
"Thanks to the guidance of my parents and Rotary District 9270, I have always been involved in some kind of activism," Sabat says. "Many projects the district is involved with are related to the care of the nearly two million AIDS orphans in South Africa. I was fortunate to be part of many of these projects, and this instilled in me the desire to do more work related to AIDS."
Sabat, who was a 2007-08 Rotary Scholar at the University of San Diego in California, traveled back to Cape Town earlier this year and met with mothers involved in the program.
"Some of the women spoke about their reactions when they found out that they were HIV-positive and what it was like sharing the news with their partners," she says. "They thought their lives had ended, because they had such little knowledge of HIV/AIDS. Only after being introduced to mothers in the program did they think that their babies could be born HIV-negative and that they could live long, productive lives caring for their families."
See full verson of this article on the Rotary International website
---